All Things Bright and Beautiful Pottery Ltd
Mobile no: 07940 952140
Send us an email
Welcome to "All Things Bright and Beautiful Pottery" - the mobile pottery shop that comes to you.
Give us a call and you' enjoy a fun filled day. Be creative, design and paint your own masterpiece – it's easy! For the more adventurous we have a wide variety of ceramics to choose from and tools to design your masterpiece with. Alternatively browse through our design brochures for inspiration then get creative! Enjoy some refreshments while you paint your masterpiece!
We are always available for as much assistance as you need.
Participate in the unique experience of creating a personalized gift for friends and family. Choose from a wide range of ceramics including plates, mugs and bowls, prices starting from £4.- (plus £ 2.50 studio fees)
To avoid disappointment we encourage bookings by emailing
Richard Carter
or calling him on 07940952140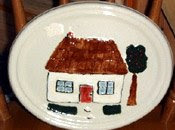 Our business hours
during term time
are Thursdays, Fridays and Saturdays from 10.30 am to 4.30 pm.
Business hours
during school holidays
are from Tuesdays to Saturdays 10.30 am to 4.30 pm. We are also open all bank holiday Mondays.
All paints used are
perfectly safe!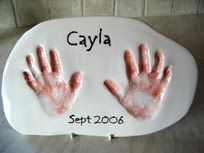 Paints are water soluble, non-toxic, lead free.


Glazed and kiln fired finished products are permanent, washable and safe for food and drink.
Copyright (c) 2006 All Things Bright and Beautiful Pottery Ltd